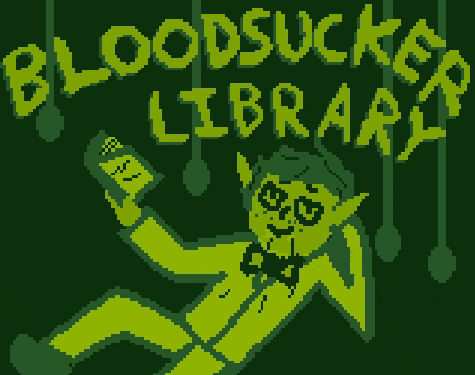 Bloodsucker Library
A downloadable game for Windows, macOS, and Linux
In Bloodsucker Library, you play as Lucile, the vampire librarian, while she tries to put books from the Book Returns box back onto the shelves.
However, some rude library guests are being very loud, and they must be shushed or else Lucile's vampire instincts will awaken.

The Peacefulness Bat will let you know if Lucile is getting too annoyed. If it starts flapping around you must find a quiet place to cool off, or make people shush!
Arrow Keys: Move
Z: Shush
X: Grab book from book box / place book on shelf
Enter: Start Game / Restart after Game Over
M: Mute Music
F: Zoom Window
Made in a week for GBJAM!
Download
Click download now to get access to the following files:
BloodsuckerLibraryWindows.zip
12 MB
BloodsuckerLibraryMac.zip
17 MB
BloodsuckerLibraryLinux.zip
17 MB
Comments
Log in with itch.io to leave a comment.
The game is surprisingly difficult but I love the premise it gave me a chuckle.
When starting the game and choosing the size of the window, once the game starts it becomes a very small window. I believe it was at 320x320. I could not play it at that size.
They screen became a bit bigger, thanks.
Nice little game.
Now reading your description for the game, I can see that I died by being too annoyed. Awesome game over screen, though! Good job!